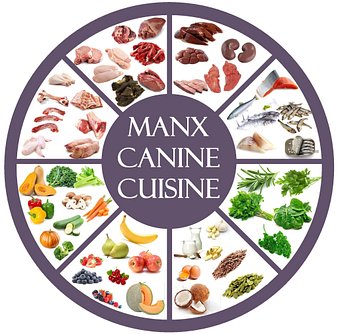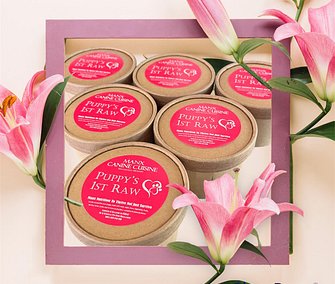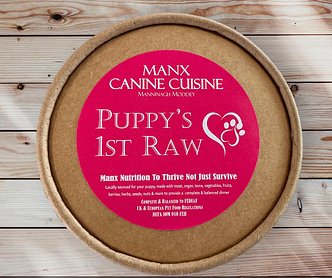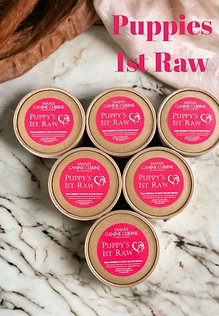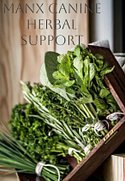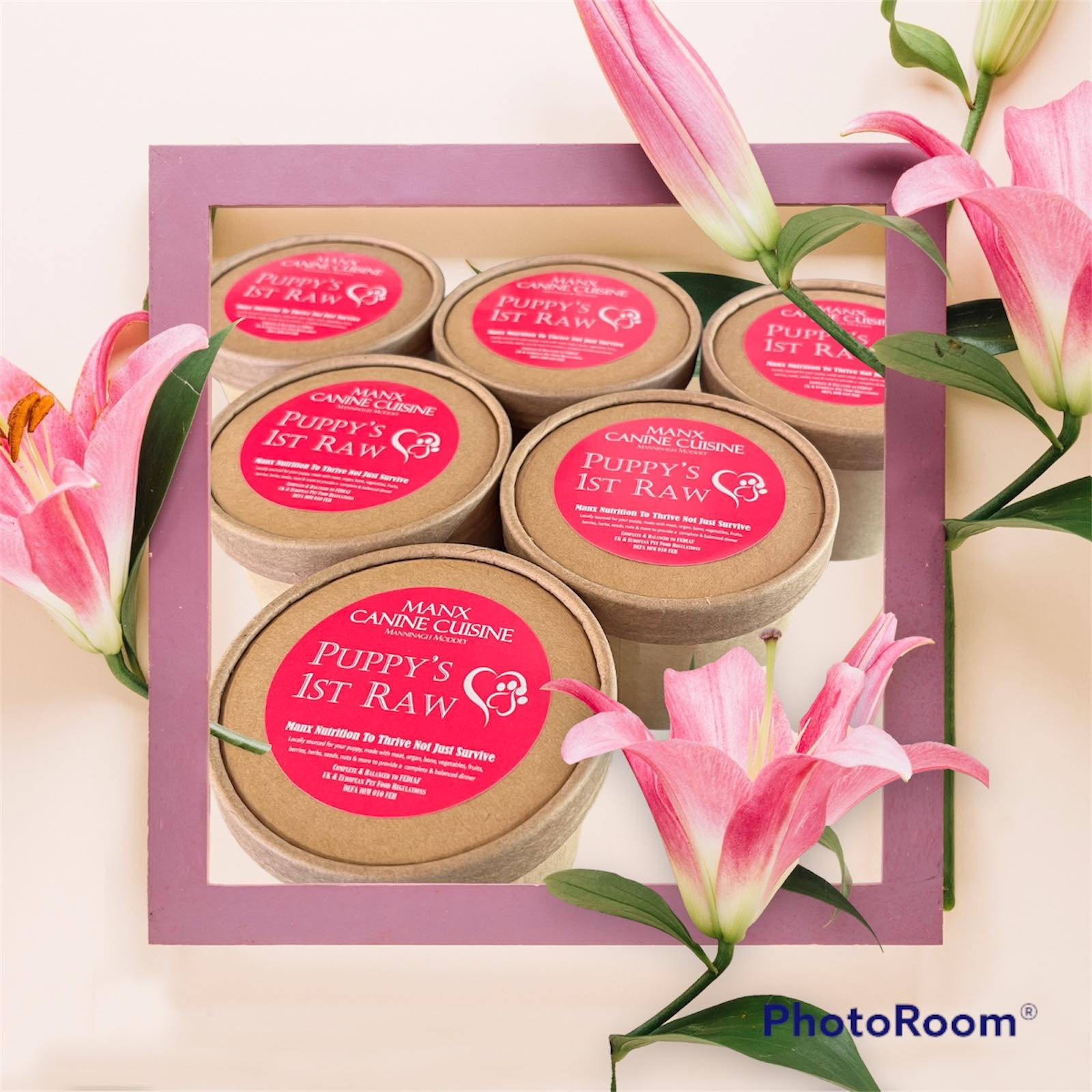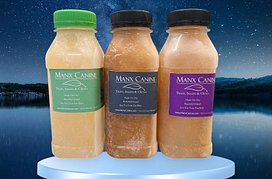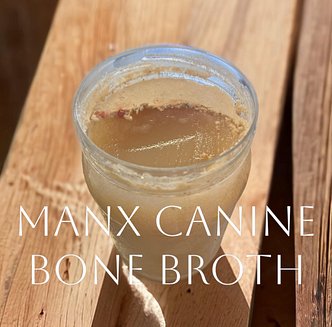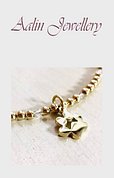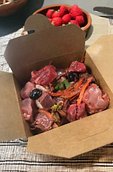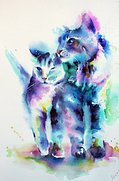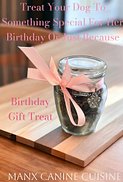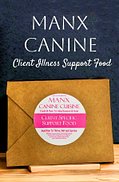 Use the little arrows to scroll through the products
Manx Canine Cuisine makes one of the best raw complete and balanced dg foods on earth, as the Isle of Man is the only place on the planet that is registered as a Biosphere Nation, the food raised and grown on our Island is incredibly healthy and nutritious, we use meat, begetables, fruit and herbs grown by some of the best farmers in the world, who still use ethical and environmental practices that not only benefit us and our pets, but the land we live in too.
Click here for all our locally made trearts and sweets for your dog and cat.
Our Manx Pork complete Doggie Dinner, delicious Manx farm raised pork, with pork loin, leg and trim muscle meat chunks mixed with heart, tongue liver, kidneys and lung, combined with
a tasty range of local
vegetables, fruits,
berries, herbs, nuts,
seeds and spices, all
together makes up
a nutritious and
totallly scrumptious
complete & balanced
dinner your dog will
love.
Specialised food for illness support, including cancer, diabetes, athritis, pancreatitis & more.
Click here for all our locally made trearts and sweets for your dog and cat.
Manx designed and created pet jewellery by
Aaalin Jewellery
Nutrient dense food especially created for pregnant & nursing mummies, weaning & puppies 1st raw
New puppy? Want to introduce them to raw? Let us help, our Canine Nutritionist is the islands only qualified nutritionist, here to help you transition your puppy or dog (and kittens and cats) to a healthier fresh food diet. Message us now or email Pam@manxcanine.com........
You and your pet won't regret it.
Natural herbal support for illness, disease, parasites, health & nutrition
Gota query? Book a consult… it's worth it..
So! Consultations….
I started studying canine nutrition as a profession over ten years ago, Canine Nutrition was my main focus, but Herbalistic Medicine became a second, and i became a member of the Complimentary Medical Association….
But this is a hard one here, we do a full consult for people with problems with their dogs, this is a brief run down of what it involves, each case is different so each one needs a different approach:
Full history, age, breed, sex, weight
Family background if available
Medical history
Nutritional history
Medications, holistic, supplements and conventional
Exercise routine
Mental health, stress, anxiety, calming activities etc, recent losses or gains
Digestive information, food, treats, bowel movements etc
We provide you with current science knowledge on nutrition, history of food and it's path, world health statistics on canine health overall and finally with you we come up with a plan to help your dog, whether it be a new diet for upset tummies, or scratchy itchy skin, loose stools or constipation, even joint and overall health for puppies, adolescents, adults, seniors, pregnant and lactating females.
This comes with long term support and nutrition for your pet.
So, when we get a message asking a quick question from someone about their pet I'm generally happy to answer, but sadly this can often extend into an hour long phone call/text/email/messenger conversation which is effectively a consult, and sadly because we never got to go through all the above properly, the help I provide might be be complete and miss a vital piece, not only that but it takes much needed valuable time from me, I often can't stop and answer a message or the phone, if we're in the middle of making a batch of cancer support food and someone rings with a quick question that turns into half an hour I've not got the time as I can't leave my batch, with all this in mind isn't £40 worth a full consult?
Not only is it worth your time, but it helps your dog more than you think, you get the full information not just a piece of it.
Our dogs are the sickest animals on this planet, with 50% of them getting cancer by the time they are ten, that's ten times higher than human cancer. My profession is busier than ever and just getting more busy that even our vets have had to close their books to new customers, sadly I have to plan my time effectively, 14-16 hour days are not as fun as they sound, even if you love your job as much as I do.
Got a query? Book a consult… it's worth it.
Manx Canine Cuisine's Consultation Service
2. Puppies first weaning and raw food
3. Nutrition for pregnant and nursing mums
4. D.I.Y. Advice and Support
5. Nutritional Analysis Service
6. Illnessd and disease support food
7. Allergy, Food and Environmental Sensitivity Advice.
8. Palative nutritional Support
9. Holistic and Herbal advice and support
9 Reasons to start giving your dog bone broth.
1. Detox the liver and body
3. Provides nutrients for Healthy Skin & Coat
4. Provides amazing joint support with glucosamine, hyaluronic
acid, chondroitin & collagen nutrients
5. Improves digestive health and helps heal leaky gut
6. Contains a great range of essential vitamins and minerals
7. Fights inflammation and diseases such as diabetes, arthritis,
heart disease, cancer and dementia.
8. Enhances hydrations after sickness and diarrhoea, great for
9. As part of their every day diet and as a treat or a snack
Follow the link below to purchase some for your pet now, cat or dog, both will love it.